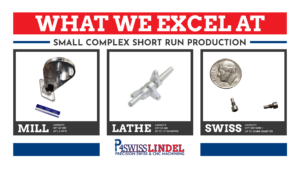 CNC Mill Machines Producing Small, Complex Parts Quickly
At P4Swiss/Lindel, their team excels at small complex short run production. This team not only provides 3-axis and 4-axis machining, but 5-axis CNC machining, as well.
Their CNC mill machine's work envelope ranges up to 20"L x 40"W. Some CNC shops will only offer 3-axis or 4-axis machining, while P4Swiss/Lindel offers 5-axis CNC milling machines – providing their customers a shorter turn time experience and completed mill runs from 25 to 500 pieces more quickly and more precise than milling on 3-axis or 4-axis machines. P4Swiss/Lindel's CNC machine has 3 dedicated, 5-axis machines with work envelopes ranging up to 12 inches in diameter. Their advanced CNC machining will offer you higher quality on intricately designed pieces, providing a higher level of milling precision surpassing standard machine shops.
Multi-Axis Lathes Producing Precise and Small, Complex Parts
With a wide selection of production levels, P4Swiss/Lindel offers lathes that produce some of the country's most precise and complex small parts. Their team took giant strides in precision, offering their customers multi-axis lathes, for CNC machining. They're able to keep up with demand with their Doosan Puma 2100SY lathe.
The Doosan Puma 2100SY lathe is:
High performing
Specialized in precision CNC production
Specialized in premium surface finishes
This machine can take on some of the toughest materials, including titanium alloys to steel and aluminum and more. This Doosan Puma 2100SY lathe has expanded their CNC Lathe department and Swiss CNC machining ability, providing an integrated y-axis that improves productivity by guiding each precision part, from beginning to end.
Swiss CNC Machining Improving Productivity
P4Swiss/Lindel offers Swiss CNC machining, providing expertise when defense contractors or medical industries need dependable precision machined parts. They have the capability to constantly manufacture quality, complex machined parts, supporting a wide range of vital industries. P4Swiss/Lindel can produce orders of 500 to 5000+ Swiss units, with their turn times decreasing to 2 to 3 weeks. Their team expanded their Swiss CNC machining, with a $50,000 microscope required to verify the tight tolerance required for Swiss CNC machining.
The P4Swiss/Lindel team, also, provides post-machined finishing in:
Heat treating
Anodizing
Plating
They are surpassing the minimum tolerance standards required from a lot of industries.
Get a CNC quote for your project, today!