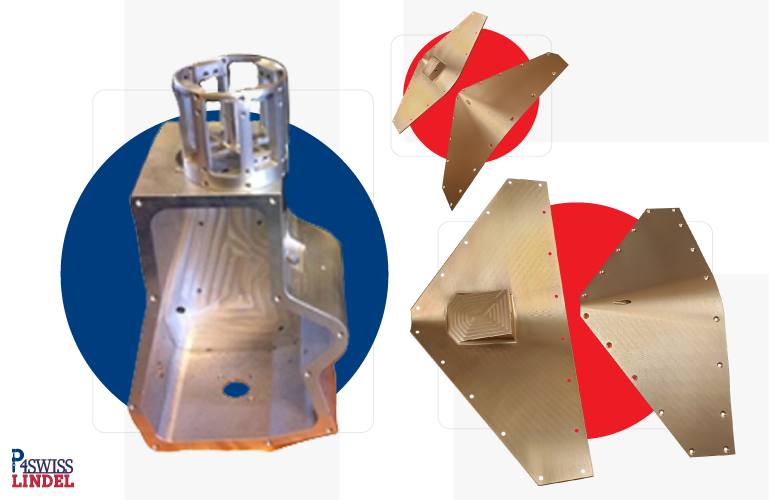 P4Swiss / Lindel CNC Machining is the most trusted name in Aerospace CNC Machining. We provide our clients with the best services available. Lindel has a trusted reputation and meets all requirements and exceeds the expectations for all CNC machined aerospace parts.
Backed by years of CNC experience, we have the reputation of producing and creating geometrically-customized aerospace components with the greatest accuracy available.
Aerospace Machining Services Provided by P4Swiss / Lindel CNC Machining
No attention to detail can be spared when it comes to aerospace machining. Our machinists excel in the craft of 5-axis milling, and are the go-to choice among manufacturers of aerospace equipment, tools, and internal structural components. Our aerospace machinists work with materials that range from stainless steel, all the way to titanium. Whether it be satellite components or flapper control parts, our team will deliver the highest-quality machined parts time and time again.
Precision Aerospace CNC Machining For:
Satellite components
Flapper control parts
Carbon composite parts
Sculpted core material
Small to medium sized parts
How We Meet The Needs of your CNC Aerospace Machining Needs
We produce our aerospace machined products in an ISO 9001:2015 quality environment
CNC 3, 4 and 5 Axis Milling Machined With Precision
CNC Turning with Live Tooling
Produced on a Gibbs/CAM system to precisely produce the most intricate geometries
We're No Stranger to Aerospace Parts Manufacturing
P4Swiss / Lindel CNC Machining has been the #1 resource for creating tools, parts, and equipment components over 30 years for some of the largest companies in the nation.
Thank You for Visiting
As a company who has manufactured a wide array of aerospace CNC Parts, we know that you can trust us to become your first line of contact for all your machined needs. Our professionals work together with you from start to finish, meeting your most detailed requirements for any project imaginable - while never limiting our challenges and always challenging our limits.
Other Capabilities
---
---
Testimonials
Hear from our partners and clients what makes Precision CNC Stand out above the rest.
Read Our Blogs
Interested in learning more about CNC machining and how it relates to you? Start with our blogs.