For more than three decades, the team at P4Swiss / Lindel have been helping manufacturers throughout the United States produce state-of-the-art machined parts for some of the most advanced machinery on the planet (and beyond). Success stories like these, though, often start with humble origins. Each precision part, whether machined for medical or optical manufacturing, military / defense contractors, or aerospace engineers, starts with a custom prototype. No matter if it's as a new component within a precision manufacturing workflow or to innovate a current complex part through testing materials or alternate CNC machining techniques, the prototyping stage is often where the importance of detail, speed and reliability win out.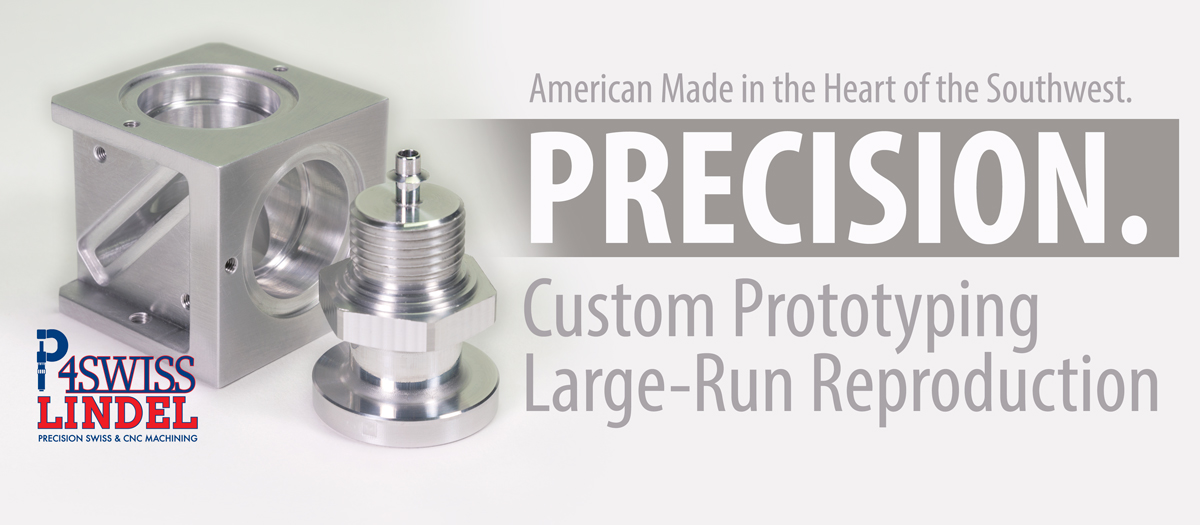 "The P4Swiss / Lindel team have had the honor of partnering with some of the most advanced manufacturing companies in the world," said G.M. Tom Ferrara. "Helping these manufacturers succeed with production speed and precision is why we come in every morning."
With the capacity to produce CNC milled parts on mills ranging from 3-axis up to 5-axis, contractors can expect speed and precision at the core of every piece produced. Whether it's a single prototyped component to be shot into space or a series of 500 to 1000 or more to be added to an advanced assembly line, our dedicated machinists strive to meet the demand of a very competitive CNC Mill. Lathe and Swiss CNC machining market.
"Precision should never hinder the process," said P4Swiss / Lindel Production Manager, Tony Torrez. "With runs ranging from one or two pieces to orders in the thousands, the speed, consistency and repeatability of our process is truly admirable."
P4Swiss / Lindel Precision CNC Machining, with their operations located in Tucson, Arizona, doesn't rely on material from overseas and can ship with speed and efficiency anywhere across the United States. Where many manufacturers find themselves beholden to international delays and exorbitant shipping costs, the P4Swiss / Lindel team remain nimble and economical, producing volumes of precision parts with competitive lead times.
Whether you're a regional manufacturer looking for support on the production of complex parts or need a precision CNC partner to work out the details of a prototype or short-run machining orders; locally, regionally or across the United States, you can take advantage of the speed and support from the P4Swiss / Lindel team.
If you have questions or would like a quote on your latest precision CNC machined part, you can reach out to our Production Manager, Tony Torrez, at tony@lindelengineering.com, call 520-792-3160, or click the "Request a Custom CNC Quote Today" link below.
We look forward to working with you.
---