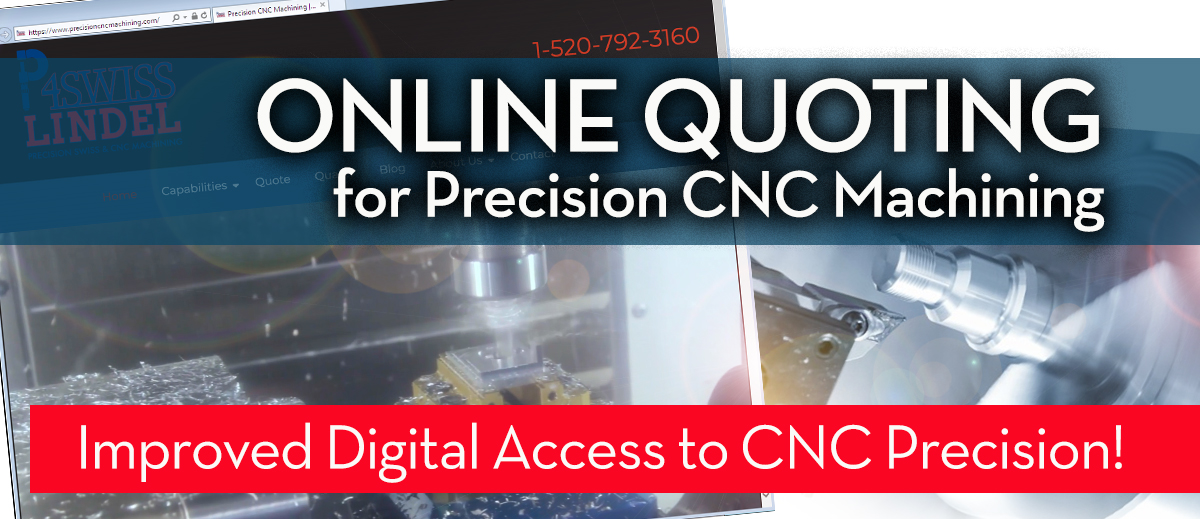 After the merger between Oceanside, California's P4Swiss and Lindel CNC Machining from Tucson, Arizona, clients and prospects for both companies were notified of increased capabilities and location change. For much of the last year contact and communications strategies had been focused on building stronger standard operating procedures (SOP) and increasing service and support to our customers. As a final step to the service and support functions of the merger, a new, streamlined digital and Web presence with the new P4Swiss / Lindel CNC Machining brand mark has been relaunched under precisionCNCmachining.com.
Beyond an updated logo, the restructured site has been built on a more secure and more robust content management system (CMS) framework with the intention of providing customers a streamlined experience and quick access to each of the divisions served by P4Swiss / Lindel CNC Machining. With quick links to Medical CNC Machining, Aerospace CNC Machining, Optical CNC Machining, Defense CNC Machining, and Precision Swiss CNC Machining, as well as galleries showing various products from all categories, customers and prospects can find exactly what they're looking for within seconds of reaching the site.
When it comes to processing and pricing CNC Machining orders, the site has also updated its online quoting protocol. With security and privacy, customers can request pricing for projects of all sizes through the Quote page. There, they can specify the project details, material, quantity, as well as securely upload schematics or CAD renderings for custom work to be reviewed by our team. All requests are sent through our secure server and on to our support team where production and pricing is calculated. Pricing quotes are often returned to the customer within the day or within a couple business days for more unique, custom work requiring additional details.
This renewed site also has features compatible with emerging technologies. While some CNC machining sites are better viewed on desktop servers or browsers, the new precisionCNCmachining.com is 100% mobile friendly and can be accessed and used on browsers from desktop to tablets and phone / mobile devices. This provides easier access for all of our customers – whether they're in the office, on the production floor, or in the field.
So, we invite you to come take a look at our updated P4Swiss / Lindel CNC Machining web site as well as join us on Facebook and LinkedIn.
If you have immediate needs or would like more information about a CNC machining project, please contact Production Manager, Tony Torrez today at 3380 E Elvira Road, Tucson, AZ, 85756, phone: 520-792-3160, or email: tony@lindelengineering.com
##30##