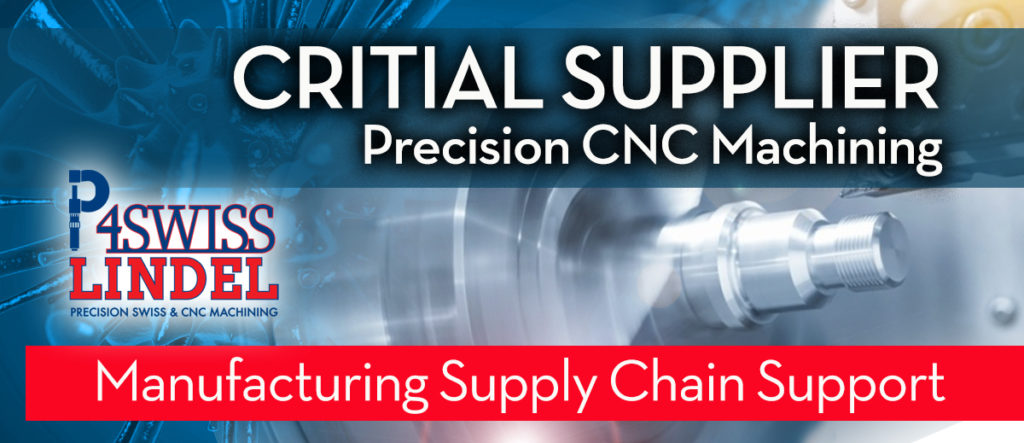 Virtually every release and news item seen out there these days focuses on the Coronavirus / COVID-19 Pandemic and how the shutdown of non-essential business has impacted the nation. While a large swath of the U.S. workforce has been sidelined from the virus, industries like medical manufacturing, military defense manufacturing, power generation, and others have stepped up to address the emergency.  As Critical Suppliers to these industries, P4Swiss / Lindel CNC Manufacturing is working to increase production and reduce delivery times to assure we continue to serve the nation efficiently and effectively.
While operations are far from "Business as usual," we have taken measures to maintain precision cnc production levels as we protect our staff and customers from any exposure or spread of COVID-19. On Monday, March 23rd 2020, the management team closed access to outside, non-essential visitors. This means all contact to P4Swiss / Lindel CNC Machining staff and operations must be made by appointment and approved by management as essential to operations and customer support.
Our team members have also been requested to follow a "Best Practices" approach for maintaining a productive work environment during a viral threat:
If an employee is feeling sick they are required to stay at home
If an employee is "at risk" from a low or compromised immune system, they are required to stay home
Employees able to work remotely (from home) are encouraged to do so until State and Federal authorities have cleared exposure protocol warnings
"Social Distancing" protocols have also been established within the production area and all remaining office team members are required to maintain proper distances while at work
While the news changes daily, it's our goal to reduce the impact to your business during this challenging situation. As a Critical Supplier, we will work to support and maintain our customers' and associates' supply chains so you can continue to manufacture and produce the tools and equipment keeping America and our communities strong.
If you have questions or need assistance, please contact General Manager, Tom Ferrara today at 3380 E Elvira Road, Tucson, AZ, 85756, phone: 520-792-3160, phone: 520-792-3160, or email: tom@lindelengineering.com
Thank you.