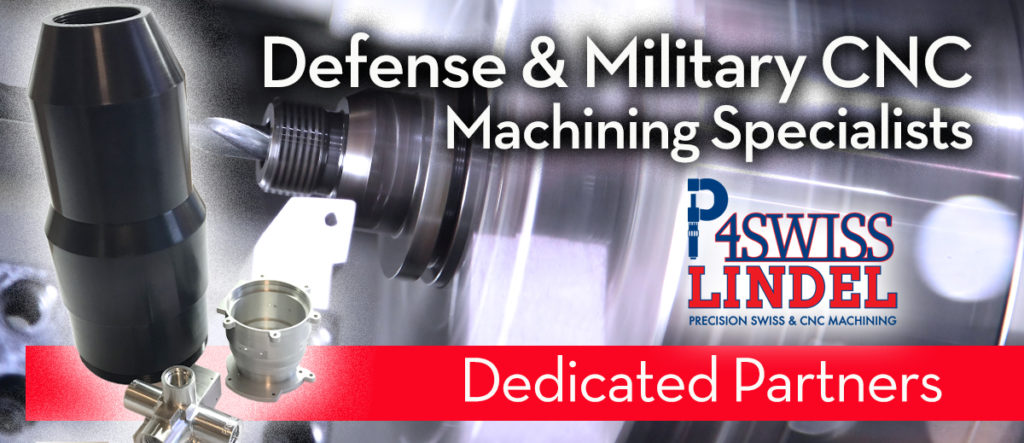 The P4Swiss / Lindel team has been part of some inspiring production and manufacturing programs. From custom engineered CNC machined parts sent into space to being an integral part of a high-precision CNC manufacturing supply chain, the precision CNC and Swiss CNC machining we do from our Tucson, Arizona plant makes the lives of our client-partner's from around the nation better. If that wasn't enough, we also provide custom CNC machined parts that go further than that. By partnering with U.S. Defense contractors and military manufacturers, the P4Swiss / Lindel team steps up to help defend our country and protect those we love.
Producing CNC machined components for military and defense contractors and manufacturers requires the highest levels of accuracy and precision. These precision CNC runs range from a few dozen to a few thousand parts – each checked through quality controls and produced within the highest tolerances and exacting military engineered standards. Our CNC machinists excel in the craft of 5-axis milling, and are the go-to choice among manufacturers of defense equipment, tools, and electronic housing components. Our defense machinists work with materials that range from stainless steel to titanium and more.
Partnering with Defense and Military contractors for CNC parts also requires the utmost commitment to country and confidentiality. Often our team will produce defense CNC machined parts for state of the art weaponry or research and reconnaissance equipment – each piece not only requiring absolute precision, but also the highest secrecy. Our defense CNC manufacturing partners trust the P4Swiss / Lindel team for 100% American made defense components and consider us part of a safe and secure production process.
P4Swiss / Lindel's commitment to the highest of industry standards and quality are evident. Compliant under the International Traffic in Arms Regulations (ITAR) as well as AS9100D certified, our defense and military CNC manufacturing customers can depend on the best the industry has to offer.
If you'd like more information about precision Defense CNC machining or need a quote for your next precision CNC manufactured product or part, please reach out to Tucson's premier precision CNC company, P4Swiss / Lindel.
Contact General Manager, Tom Ferrara today at 3380 E Elvira Road, Tucson, AZ, 85756, phone: 520-792-3160, email tom@lindelengineering.com