The manufacturing sector has seen a steady increase in demand for small complex parts and P4Swiss / Lindel has met and exceeded the call. Excelling in complex precision machined parts, P4Swiss / Lindel Precision CNC has the team and the tools to fill your custom order.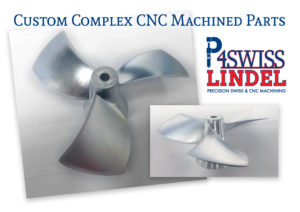 Recently, P4Swiss / Lindel was called upon to manufacture an underwater propeller to meet very precise specifications for use on small unmanned water craft. With the specifications of the part needed, the P4Swiss / Lindel team got to work on machining the small complex part to precisely match the Solid Model File (similar to a CAD drawing) the client provided, with outstanding results.
"This was a complex piece, only 4 inches in diameter and 2.5 inches deep, so precision was paramount," said Tom Ferrara, General Manager for P4Swiss / Lindel. "Through the expertise of our team and the capabilities of our CNC Swiss machining equipment, we were able to manufacture the propeller to exact specifications and deliver to a happy client in a timely manner."
It doesn't matter if you need a small run of 40 pieces or a large run of thousands: when it comes to machining small complex parts, P4Swiss / Lindel Precision CNC Machining can fill your needs and deliver your orders to your specifications.
For more information you can click the "Request a Custom CNC Quote Today" link at the bottom of the page or contact our Production Manager, Tony Torrez at tony@lindelengineering.com. You can also or reach out to us through our contact page or by calling us direct at 520-792-3160.
We look forward to hearing from you!